Instruments of Change® was founded in 2008. Its parent organization Covenant Children Inc. is a 501(c)(3) charity dedicated to relieving the suffering of children throughout the world. Its main project has been sponsoring an AIDS orphanage in Kenya since 2005. In 2008 Instruments of Change® raised funds, collected donated instruments, traveled to Kimberley South Africa with a team of 10, and introduced music reading and performance to over 150 participants in the neighborhood of Homevale. Over 300 instruments where left in the care of the Pescodia Pentecostal Church which has begun to break ground on the Instruments of Change Music Academy. Plans are underway to return to Kimberley in June of 2009.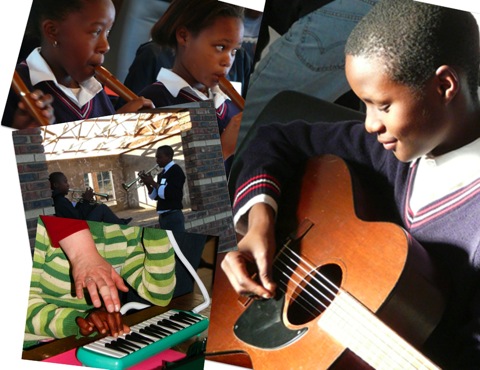 How will the funds be used? Covenant Children Inc. and Instruments of Change® have no paid staff. All participants donate their time and travel expenses are paid with personal funds. You can learn more about CC and IOC at
www.covenantchild.org
. From the website:


Covenant Children's programs and our donors have made a substantive difference in the lives of children and staff and we are deeply grateful to be part of positive change in these precious lives.
Wherever possible we forge alliances and partnerships with existing programs. In this way we limit the dollars usually required for the development of infrastructure and maximize dollars being placed directly toward on the ground programs.

Hardships continue to abound at our orphanages and rescue centers in Kenya and South Africa. Many times the children are eating only one meal a day because unexpected medical needs devour the food budget. Food costs are soaring, compounding already dangerous conditions and women and children often find themselves at the bottom of the supply chain.

Learn more about Instruments of Change at this page:
www.covenantchild.org/inst.htm